---
---
Shipping time to US: 5-7 Business days 
Finally! An easier way to pump your tyre has ARRIVED
The Portable Air-Pump provides Unbeatable Convenience.
No longer have to fiddle with your tyres in the cold
You no longer have to drive to the gas station to fill your tyres.

Don't have to worry during a road trip
Just Insert The Valve And Press The Switch!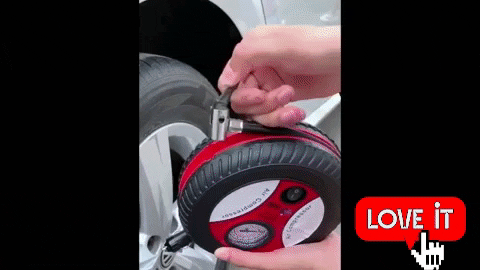 Specifications:
PSI: 260
Voltage: DC12V
Power: 120-150 W
Material: Metal and plastic
Automatic operation-preset pressure value:
Connect the cigarette lighter to the 12 v socket.
Screw the valve connector into the tire valve stem. Make sure the connector is well connected with the stem.
Push the on / off so that the compressor starts, when the pressure value reaches the required value.
The on / off button can be used to override the preset pressure value if necessary.
Note:
Common user error: The inflator only inflates to a maximum pressure and automatically shuts down. It will not light up to inflate a tire that is already at maximum pressure.
Package includes:
1 x air compressor 
3 x adapters